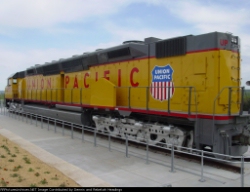 Welcome to the RRPictureArchives.NET contributor site of Dennis and Rebekah Headings.



The railroad played a big role in the history of Rebekah's family. Her grandmother worked as the depot manager in Silver Creek, Nebraska during WWII. If not for the railroad, Rebekah's grandparents may have never met, fell in love, married, and raised a family in Silver Creek. Rebekah's grandmother was not from Silver Creek, but she came from Elkhorn, Nebraska to work at the depot. So, this history has fed into our obsession with trains.



You may browse my collection of pictures via the menu located on the left hand side of the page. I hope you enjoy the collection and thanks for stopping by!
Note: This site is best viewed in Internet Explorer 6.0 or above.
Select one of the links from the menu on the left to begin browsing the collection.